Meet Joel Michael Reynolds, MA, PhD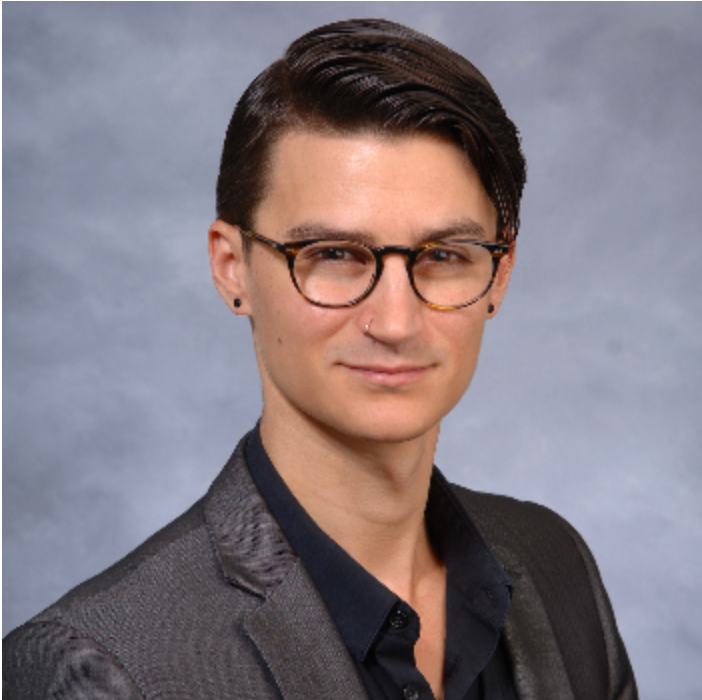 Assistant Professor, Senior Research Scholar, Kennedy Institute of Ethics
Contact
Email: joel.reynolds@georgetown.edu
Personal Website(s)
Bio and Featured Works
Joel Michael Reynolds is an Assistant Professor of Philosophy and Disability Studies at Georgetown University, Senior Research Scholar in the Kennedy Institute of Ethics, Senior Bioethics Advisor to and Fellow of The Hastings Center, and Faculty Scholar of The Greenwall Foundation. At Georgetown, they are also core faculty in the Disability Studies Program, affiliated faculty in the Medical Humanities Initiative, and a faculty fellow of Ethics Lab. They are the founder of The Journal of Philosophy of Disability and co-founder of Oxford Studies in Disability, Ethics, and Society from Oxford University Press.
At the broadest level, Dr. Reynolds' work centers on foundational issues concerning ethics, biomedicine, and society. They are especially concerned with the meaning of disability, the issue of ableism, and how philosophical inquiry into each might improve the lives of disabled people and the justness of practices in medicine, science, politics, and law. Bringing reflective and empirical insights together, their research spans the humanities and social sciences, with special emphasis on identifying, understanding, and addressing disability health disparities. Based on their AMA Journal of Ethics piece, "Three Things Clinicians Should Know About Disability," Dr. Reynolds regularly speaks with and consults for medical educators across specialties concerning how to improve the quality and equity of care for patients with disabilities, including recent talks at the schools of medicine at Yale, Harvard, Tufts, and UCLA and for grand rounds in the USA and Canada, including Brown University's Department of Emergency Medicine, Kaiser Permanente, Parkland Health & Hospital System, and Horizon Health Network. An internationally recognized expert on disability bioethics, their recent and upcoming global talks include Toronto Metropolitan University (Canada), University of Southern Denmark, University of Lyon (France), University of Basel (Switzerland), Universidad de La Salle (Columbia), University of Warsaw (Poland), and Deakin University (Australia).
Reynolds is the author or co-author of over fifty journal articles, book chapters, and scholarly commentaries as well as author or co-editor of five books, including The Life Worth Living: Disability, Pain, and Morality (University of Minnesota Press, 2022), The Disability Bioethics Reader (Routledge, 2022), The Meaning of Disability (Oxford University Press, 2024), and Philosophy of Disability: An Introduction (Polity, 2024). Reynolds' article-length work appears in The New England Journal of Medicine, Nature Biotechnology, Episteme, Biological Psychiatry, Epoché, Journal of Medical Ethics, Critical Philosophy of Race, Cambridge Quarterly of Healthcare Ethics, Hypatia, Hastings Center Report, and Chiasmi International. Current research includes a multi-year, externally funded project on the relationship between disability and quality of life as well as book chapters for Philosophical Foundations of Disability Law, Climate Change and Mental Health Equity, The Oxford Handbook of Social Epistemology, The Encyclopedia of Phenomenology, and The Oxford Handbook of Genetic Counseling.
Their public scholarship includes pieces in TIME, AEON, The Conversation, Health Progress, The Bioethics Forum, The Philosopher, and a Tedx talk. They are the founder and chair of the Society for Phenomenology and Existential Philosophy's Committee on Accessibility, Disability, and Inclusion, chair of the Access Committee for The Association for Feminist Ethics and Social Theory, and they sit on the board of the Society for Philosophy and Disability as well as on the editorial boards of the International Journal of Philosophical Studies and the Journal of Human-Technology Relations. In 2020, they co-edited with Erik Parens a special issue of The Hastings Center Report entitled, "For All of Us? On the Weight of Genomic Knowledge," based on a conference they co-directed at Brooklyn Law School. In 2021, they completed co-directorship of a multi-year, $250k NEH Public Humanities grant project, The Art of Flourishing: Conversations on Disability, Technology, and Belonging, the book form of which will appear from Oxford University Press next year. In 2022, they directed the 46th annual meeting of The International Merleau-Ponty Circle at Georgetown University on the theme, "Fits and Misfits: Rethinking Disability, Debility, and the World with Merleau-Ponty." A special issue based on this conference and co-edited with Gail Weiss is in production for Puncta: A Journal of Critical Phenomenology.
Dr. Reynolds' work has been supported by the National Endowment for the Humanities, the Andrew W. Mellon Foundation, the Howard Hughes Medical Institute, and the Greenwall Foundation. In 2022, they were named an Honorary Fellow of the McLaughlin College of Public Policy at York University and in 2023, they were named a Fellow of The Hastings Center. They earned a B.A. in Philosophy as well as in Religious Studies from the Robert D. Clark Honors College at the University of Oregon and an M.A. and Ph.D. in Philosophy from Emory University. They previously held the inaugural Rice Family Postdoctoral Fellowship in Bioethics and the Humanities at The Hastings Center from 2017-2020 and the inaugural Laney Disability Studies Fellowship at Emory University from 2014-15. You can reach Dr. Reynolds (they/he) by email at joel.reynolds@georgetown.edu
Language(s)
English, French, German, Greek (ancient), Spanish
Featured Works
Academic Appointment(s)
Primary
Assistant Professor, College – Department of Philosophy
Education
Emory University – Ph.D., Philosophy
Emory University – M.A., Philosophy
University of Oregon – B.A. with Honors, Philosophy