Meet Nicoletta Pireddu, PhD, MA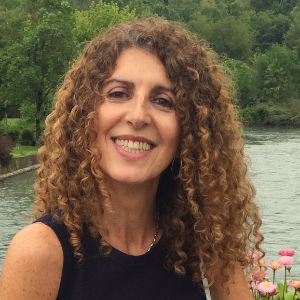 Bio and Featured Works
Professor Pireddu is a specialist in Comparative Literature. She holds an Italian laurea, and doctoral degrees from both Italy and the United States (a "Dottorato di ricerca" in English and American Literatures from Università di Venezia "Ca' Foscari", and a Ph.D. in Comparative Literature from the University of California, Los Angeles).
She is the Inaugural Director of the Georgetown Humanities Initiative (new window)and the Director of the Global and Comparative Literature Program (new window). For the academic year 2018-19 she was Interim Chair of the Italian Department and the organizer of the 2019 American Comparative Literature Association annual conference (new window), which took take place at Georgetown University, March 7-10, 2019.
Prof. Pireddu's research revolves around European literary and cultural relations in the modern and contemporary period, with particular attention to the Italian, French and British domains from the nineteenth century to the present; questions of national and transnational identities, in connection with issues of borders and migration; literary and critical theories; Mediterranean and island studies; interdisciplinary approaches to literature and culture; relationships between anthropology and literature; history of ideas; early science-fiction; translation studies.
Currently a core member of the Medical Humanities Program (new window), she was also appointed as Director of the "FLL Hager Scholars Program Colloquium" and Director of Graduate Studies in Italian. She was invited by the Dean of Georgetown College to teach the Ignatius Seminar "Borders: Self, Nation, and Beyond" (2015-18) and the Liberal Arts Seminar "Mediterranean Crossings" (2018-21). She received Georgetown University's FLL Distinguished Service Award (2017) and the Dean's Award for Excellence in Teaching (2005).
In the seminars she has created at Georgetown in Italian and Comparative Literature she explores with her students such topics as the making of an Italian and European consciousness in modern and contemporary literatures and cultures; the cultural history of food and fashion in the framework of the "made in Italy"; the literary construction of an ethnographic imagination through cultural exchanges; the avant-garde and neo-avant-garde in literature and the arts; authorship, autobiography and the relationship between genre and gender; science as a motif and formal principle in literary works within the "two-cultures" debate; the challenge to realist aesthetics in decadence, modernism, and postmodernism; law, justice and truth in detective fiction; the representation of mafia in literature and film; theoretical and practical questions of literary writing and translation, also on the basis of her experience as a freelance translator.
A board member of the American Comparative Literature Association (and elected Program Chair for 2020-23), and active in other professional organizations in the U.S. and Europe, Prof. Pireddu has published over eighty articles in leading American and European volumes and journals such as Comparative Literature, Romanic Review, Research in African Literatures, Journal of European Studies, English Studies, Gothic Studies, Comparatistica, Forum Italicum, The Translator, Quaderni d'italianistica, and Annali d'italianistica, focusing on a variety of authors such as Claudio Magris, Milan Kundera, Malcolm Bradbury, Paolo Mantegazza, Scipio Sighele, Tahar Ben Jelloun, Virginia Woolf, Gabriele D'Annunzio, Carlo Emilio Gadda, Samuel Beckett, Primo Levi, Anna Banti, Diego Marani, Edgar Allan Poe, Oscar Wilde, Joris-Karl Huysmans, Angela Carter, Gianni Vattimo, Michel Foucault, Vernon Lee, Stéphane Mallarmé, Thomas De Quincey.
Prof. Pireddu is the recipient of the 2003 American Association for Italian Studies book award for her volume Antropologi alla corte della bellezza. Decadenza ed economia simbolica nell'Europa fin de siècle (Fiorini, 2002), a study of the relationships between decadent aesthetics and the anthropological discourse on gift-economy in turn-of-the-century European culture. Prof. Pireddu's book-length publications also include the first English monographic study on the relationship between space and identity in Claudio Magris's writings–The Works of Claudio Magris. Temporary Homes, Mobile Identities, European Borders (Palgrave, 2015); the edited essay collection Reframing Critical, Literary and Cultural Theories: Thought on the Edge (Palgrave, 2018); the first English annotated editions of Scipio Sighele's writings–The Criminal Crowd and Other Writings on Mass Society (U of Toronto P, 2018), of Paolo Mantegazza's The Year 3000. A Dream" (U of Nebraska P, 2010) and of other selected works by Mantegazza, The Physiology of Love and Other Writings (U of Toronto P, 2007). Most recently, she completed the volume Migrating Minds. Theories and Practices of Cultural Cosmopolitanism (new window) (co-edited with Didier Coste and Christina Kkona; Routledge 2022) and two special issues: Claudio Magris and the Quest for Europe (new window) (The European Legacy. Towards New Paradigms, vol.27, n.7-8, 2022) and Imagining Communities, Multilingually (co-edited with Jesse Amelsvoort for the journal Parallax, vol.28, n.2, 2023, currently in print).
Prof. Pireddu's research has been sponsored by fellowships and grants from numerous institutions (the National Endowment for the Humanities, the Howard Foundation at Brown University, the Italian Foreign Ministry, the Borchard Foundation and the Paris Program in Critical Theory), and was recognized with the "Mario Soldati" international literary award for criticism in 2008.
Before her appointment at Georgetown, Prof. Pireddu taught in the Department of Romance Studies at Duke University, in the Department of Modern and Classical Languages at the University of Houston, and in the Department of Comparative Literature at UCLA, offering courses in the humanities, comparative literature, and Italian and French language and literature.
Expertise
Comparative Literature, Cultural Studies, Early Science-fiction, European Studies, Interdisciplinary Studies, Literary and Critical Theories, Mediterranean Studies, Translation Studies
Interests
Comparative Literature, Cultural Studies, Food Studies, History of Fashion, History of Science, Humanities, Interdisciplinary Studies, Translation Studies
Language(s)
French, German, Italian, Latin, Portuguese, Spanish
Featured Works
Academic Appointment(s)
Primary
Professor, College – Department of Italian
Education
Università Ca' Foscari Venezia – Ph.D., English Language & Literature
University of California-Los Angeles – Ph.D., Comparative Literature
University of California-Los Angeles – M.A.
Università degli Studi di Verona – B.A., Comparative Literature