Students Projects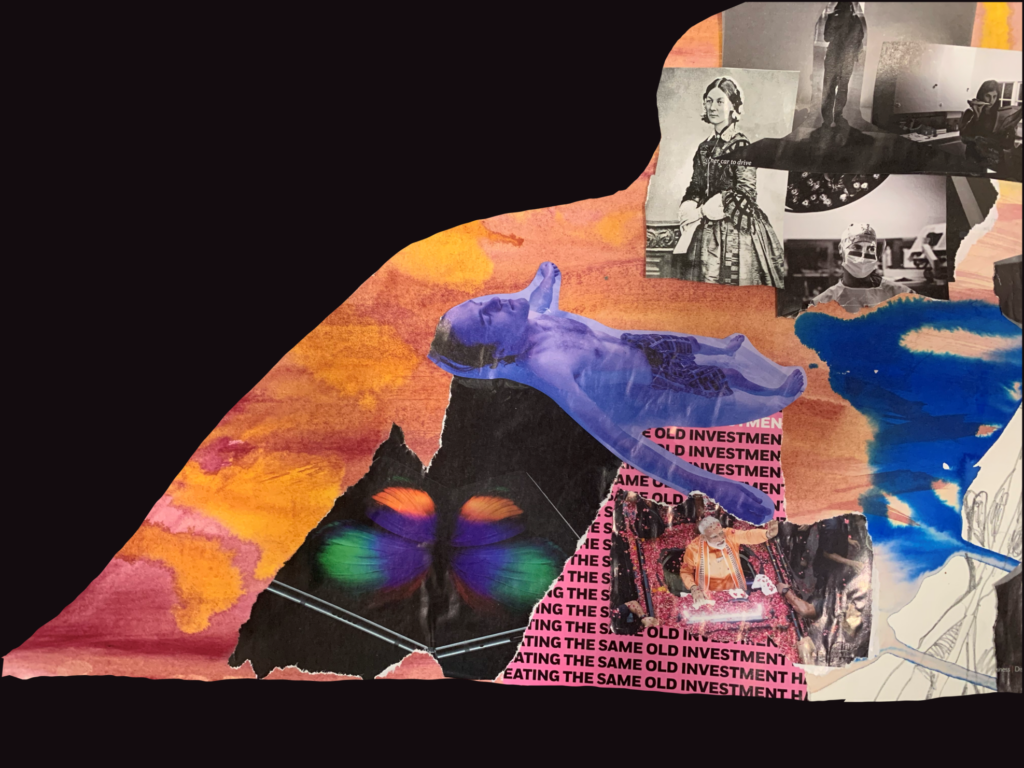 "Depression: A Family Memoir" website
Student: Alaina Anderson (NHS'24)
Affiliation: Global Health major and Medical Humanities minor, School of Nursing and Health Studies, Class of 2023
This is a website examining mother-daughter relationships through the lens of depression. My overall goal was to give a brief overview of common experiences among parents and children with depression and then illuminate the experiences of both mothers and children having depression through my family's story. I ended up taking sections from each of our individual writing and weaving it into a conversation in order to give each person their own voice.
"A History of Medical Kits during the World Wars"
Student: Hank Butehorn (COL'24)
Affiliation: History major planning to pursue the Medical Humanities minor and the Pre-Medical Track, Georgetown College, Class of 2024
The project is a recreation of US military medic kits. It shows the evolution of the United States's military medical kits, focusing on the World Wars period. The main material of the project was a model of the M2 Jungle Med kit, which was issued to every soldier in the later years of WWII. Every item in this med kit was recreated by hand and assigned a description, as each item represented a need the armed forces needed in a previous conflict. For instance, insect repellent was added after the Mexican American war and athlete's foot cream was added after WWI. This was due to the death and discomfort from malaria and trench foot respectively. A mix of (then) cutting edge technology and medical equipment that had been in use since the Civil War all made it into the small and unassuming M2 pouch.
"Medical Technology: An Evolution"
Student: Siona Ely (COL'24)
Affiliation: Chemistry major, Georgetown College, Class of 2024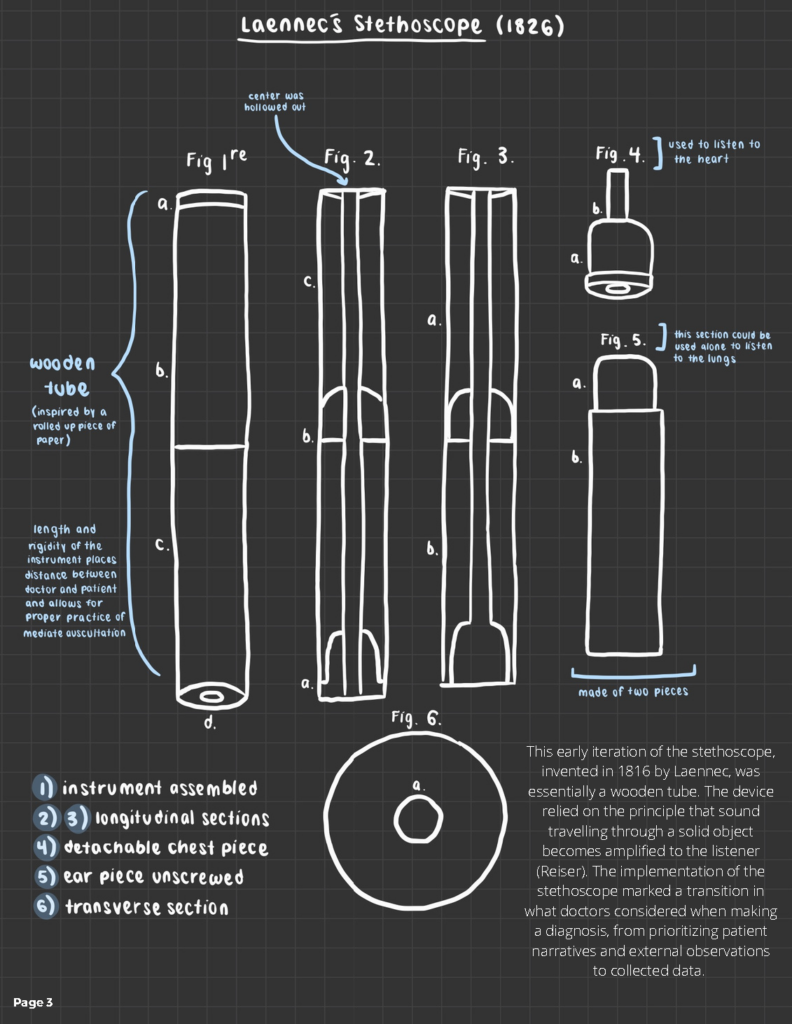 The project is a coloring book of diagrams of medical technologies.
Siona chose to depict medical technologies at various key moments in their development and evolution to show how their physical forms evolved alongside their use and role in the practice of medicine. For her, annotated diagrams are a powerful way to learn about something new and convey information, and thus selected to format her research on the relationship between technology and medicine in this manner.
"Medical Neglect and Experimentation on Enslaved People"
Student: Audrey Landstreet (NHS'24)
Affiliation: Healthcare Management and Policy major, hoping to pursue the Medical Humanities minor, School of Nursing and Health Studies, Class of 2024
This is a curriculum for students on antebellum plantation medicine as well as the indigenous practices of enslaved people of West African descent.
"Voices of the Unheard"
Student: Sabreen Mohammed (NHS'24)
Affiliation: Global Health major and Medical Humanities minor, School of Nursing and Health Studies, Class of 2024
This is a photographic essay portraying the written experiences of those who lived during the 1918 Influenza Pandemic. The project also offers a commentary on government intervention and health officials' reception of the general public's most pressing concerns.
"Dr. Whitehead's Medical Apothecary Crate from the 1820's"
Student: Evan Navori (SFS'23)
Affiliation: Science, Technology, and International Affairs (STIA) major, School of Foreign Service, Class of 2023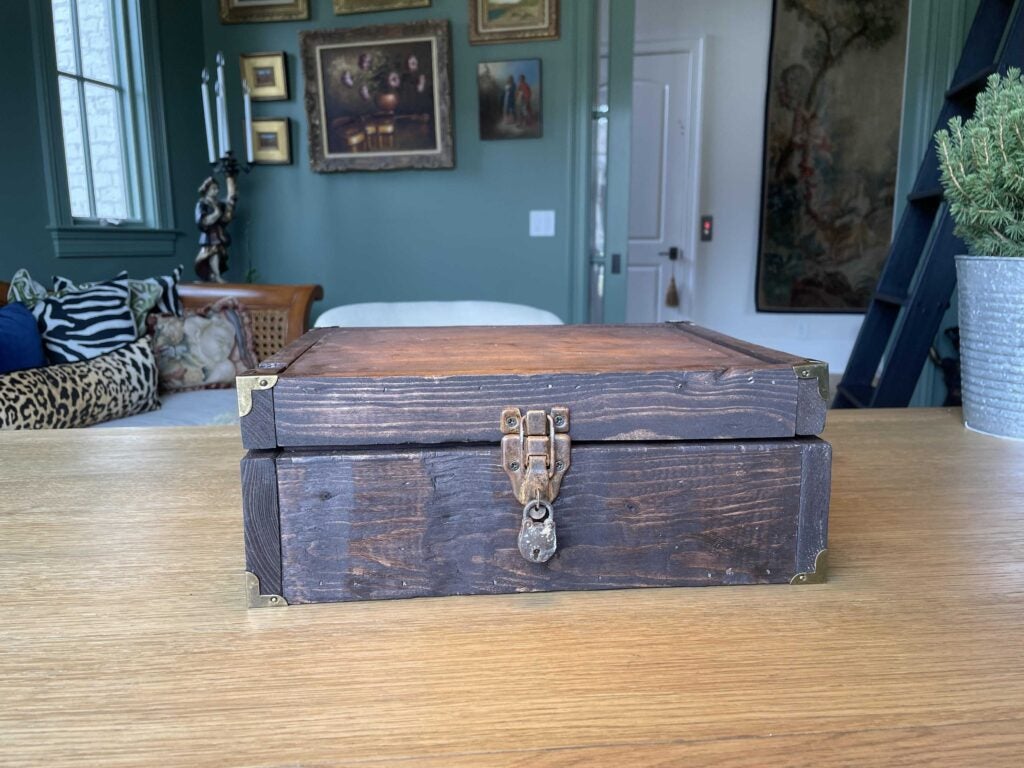 This project is a recreated 1820s apothecary chest for a colonial physician in British India that Evan built. He did extensive research on historically accurate remedies and substances in order to create this final project, and wrote fictional diary entries for a fictional colonial physician that accompanies the apothecary chest.
"Cervical Cancer in Southern India: Stigma, Screening and Seeking Understanding"
Student: Anisha Patibandla (COL'24)
Affiliation: Human Science major, Georgetown College, Class of 2024
This project is a visual representation of prevalent beliefs and attitudes surrounding cervical cancer and screening in Southern India. The goal of the project was to highlight these beliefs and investigate how they have contributed to lower screening rates and consequentially higher rates of cervical cancer mortality.
"An Ode to the LVAD Patient"
Student: Amy Petschek (COL'23)
Affiliation: Pre-Med, Biology of Global Health major and Science, Technology and International Affairs minor, Georgetown College, Class of 2023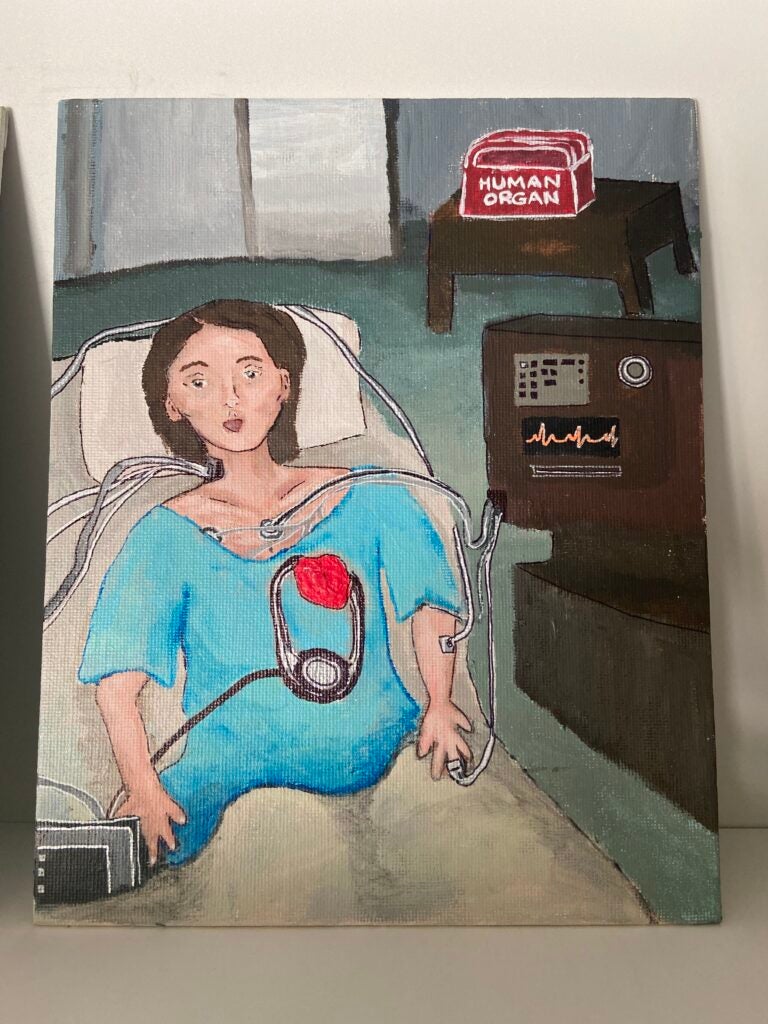 The project is a series of art and narratives in which Amy translated her experiences as a medical tech working on the Georgetown University Cardiac ICU ward with LVAD (left ventricular assist device) patients. Accompanying her art, she wrote parallel medical charts and patient pathographies, showing the distinctions between what makes it into the medical record vs the patient phenomenological experience.
Artist statement: My piece "An Ode to the LVAD Patient " is meant to capture the patient experience of LVADs or left ventricular assist devices from the past, present, and future. In a triptych, the paintings are meant to demonstrate the progression of LVAD technology and its impact on human lives from the 1970s to today to the future of these life saving devices. The furthest left painting is supposed to be the woman lying in a hospital bed while the active swimmer patient is a representation of the future. I was inspired to pursue this project due to my work as a patient care technician on the surgical cardiovascular ICU at MedStar Washington Hospital Center where I have seen countless patients come in for LVAD implantation or return to the hospital due to complications with their LVADs. My patient interactions are what drove me to better understand what kind of technology the LVAD is and how its evolution from a "bridge to transplantation technology" to increasingly a "destination therapy" has impacted patient lives and mental health. The paintings along with each individual pathography are meant to represent a hypothetical patient and how they see themselves, put in direct contrast with a typical provider view of patients in the form of a hypothetical medical chart. The contrast in the language, especially the extensive use of acronyms and jargon in the charts are purposefully done in order to demonstrate how the world of the patient and the world of the healthcare team can be so different and sometimes at odds. I hope this project can shed some light on these questions and the divide between what can seem like civilian perspectives and medical professionals.
"The Mystery of Bà Nội and the Ginkgo Seeds"
Student: Angelette Pham (COL'24)
Affiliation: Biochemistry major and Medical Humanities minor, Georgetown College, Class of 2024
This is an original detective story featuring Traditional Vietnamese Medicine. The overall purpose of writing a detective story is to help create a space to talk about traditional Vietnamese medicine in the context of the Vietnamese American identity. I purposely tried to deconstruct the typical detective story in order to make this space.
"The Usage of Plant-Based Materials in the Mummification Process in the New Kingdom of Egypt"
Student: Layan Shahrour (NHS'23)
Affiliation: Human Science major and Medical Humanities minor, School of Nursing and Health Studies, Class of 2023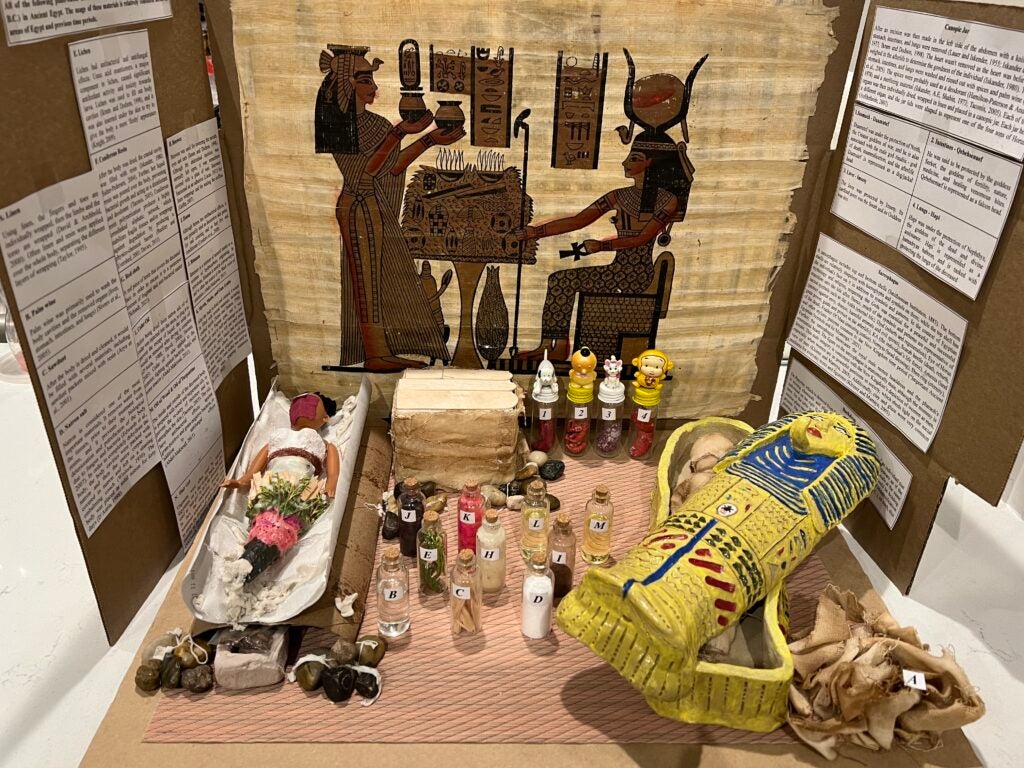 This project explores the usage and role of plants or plant-based materials in the embalming and mummification processes. The project aims to answer: to what extent are plants used in the mummification process in the New Kingdom of Ancient Egypt? And what purpose do these plant-based materials serve in the mummification process?
After an extensive botanical and historical research, a funerary scene was created showcasing the main plant-based materials used in the New Kingdom on a model with each of the materials displayed in small jars. Furthermore, a hand-made clay sarcophagus displays the final wrapped version of the mummy, while depicting spiritual and cultural symbols on the exterior of the sarcophagus. Canopic Jars are also displayed housing their respective organs in line with the figures' spiritual significance and protective power.
In conclusion, the materials used in the mummification process were in fact plant-based, and they were used for antibacterial and microbial purposes, specifically for cleansing, perfuming, anointing, and as packing material.
This project not only allowed for the exploration of the role of plants in the mummification process, but also as a way to remember the history and culture of New Kingdom Egyptians and the religious influence/beliefs that played a role in the process and the materials used. Furthermore, in line with the discussions of toxins in the Introduction to Medical Humanities course, a greater understanding of the progression of toxins and technology in relation to medicine over time was achieved.
"College Illness Narratives in the Age of COVID-19" podcast
Student: Veronica Williams (COL'23)
Affiliation: American Studies major and Psychology minor, Georgetown College, Class of 2023
Podcast on college student experiences of COVID. The project explores how COVID-19 has shifted the "normal" college illness narratives through the way it introduces the new COVID illness narrative, and how it has shown to exacerbate the experiences of some illnesses that college students already have. This project is meant to frame college students in a different light as we are mainly framed as vectors of the virus instead of victims of this virus. It is my hope to show that not all college students are just partying hard and not caring about the effects of the virus.
"Distancing and Disfigurement: Reactions to the Marked Body" website
Student: Kayla Zamanian (SFS'23)
Affiliation: Science, Technology, and International Affairs (STIA) major with a global health concentration and French minor, School of Foreign Service, Class of 2023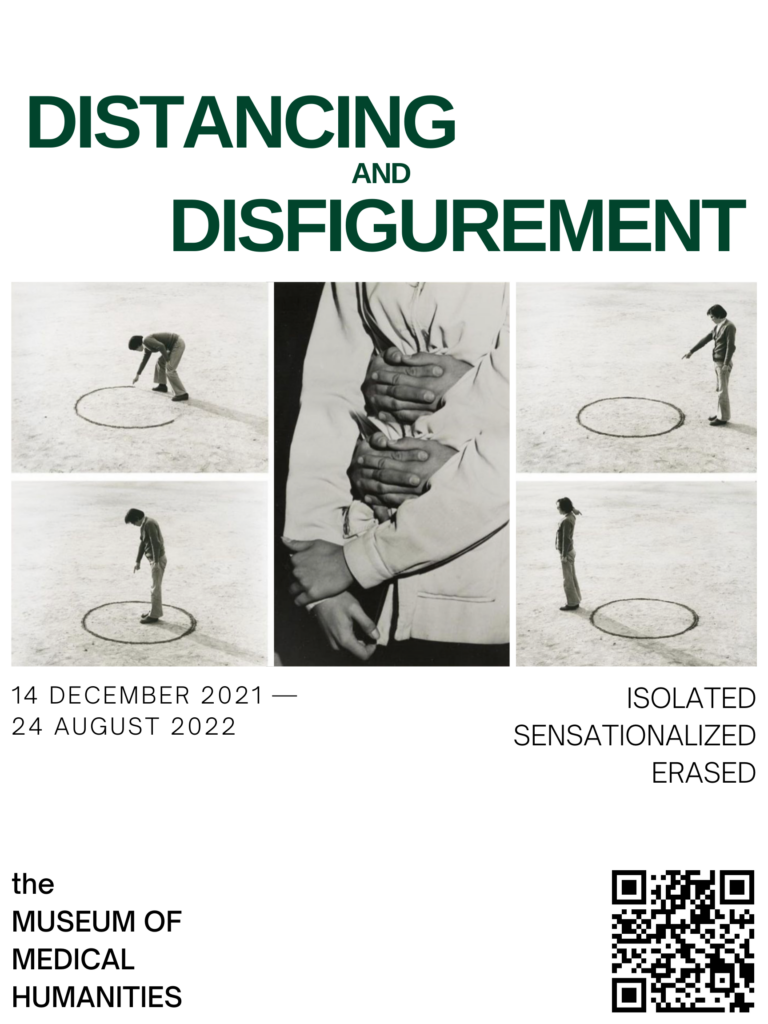 Distancing and Disfigurement is a virtual museum exhibit examining the historical and cultural experiences of disfigurement in individuals and communities. The collection of works strives to show that while the context of disfigurement can change — whether caused by leprosy or breast cancer or transformed into a public spectacle — one thing remains the constant: the distance held between the 'normal' public and the 'abnormal,' marked body. By bringing a variety of artistic mediums and narratives into conversation with one another, this exhibit strives to challenge the idea of what is "fit to be seen" and to bring you closer to the lived experiences of individuals with disfigurement. Distancing and Disfigurement hopes to add nuance and sensitivity to the way we understand disfigurement and to spark critical dialogue about broader questions of power, justice, and liberation.