Toni-Lee Sangastiano Chaired the "The Freak Show in Contemporary Culture and Aesthetics" Virtual Panel at the 109th College Art Association of America Conference
Posted in Past events | Tagged Spring 2021, Toni-Lee Sangastiano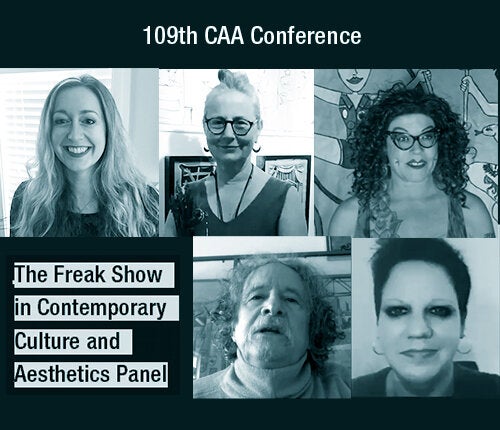 On February 13, 2021, Toni-Lee Sangastiano chaired the "The Freak Show in Contemporary Culture and Aesthetics" Virtual Panel, at the 109th College Art Association of America (CAA) Conference.
The freak show, or sideshow as it is sometimes know, continues to appear in various forms of media, which attest to its popularity, despite a significant decline in the actual freak shows and sideshows. Media headlines employ the words "freak show, sideshow, and circus" as negative metaphors against political opponents since the 2016 United States presidential election. Both the sideshow and the circus used the same media platforms to speak out against the negative comparisons.
As a postmodern form of art, the freak show is most powerful when used as a vehicle for social commentary and advocacy.
This panel brought together artists, performance artists, and artist philosophers to add a more nuanced perspective about the freak show and its relevance, with questions such as: What is the continued relevance of the aesthetics of the freak show to contemporary culture? How has our notions of exploitation shifted with postmodern sideshow performers and our participation with social media and the cellularization of labor? How does a resurgence of the Baroque inform these boundaries and rhizomatic folds?
Read Toni-Lee Sangastiano's writing about the panel.
Read the conference program and abstracts.